Chris Conway
Chris co-founded Multiply in 2018 after spending nearly a decade at a big London audit firm and then two years as Managing Director of a small accountancy practice.
With first hand experience in running, and a track record of growing, two SMEs, Chris is perfectly placed to help ambitious owner-managers achieve their goals.
In his spare time alongside a young family, Chris has a passion for domestic construction and classic cars.
Chris is a fellow of the Institute of Chartered Accountants (ICAEW).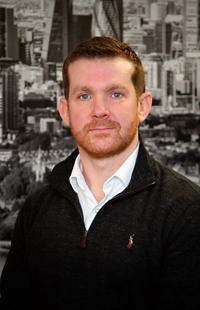 James Moggeridge
James co-founded Multiply in 2018 after spending 13 years at a big London audit firm, where he worked across a range of departments including audit, tax and corporate finance. 
Having worked with businesses of all sizes, James particularly enjoys working directly with owner managers to transform the way they are able to run their businesses.  This is typically done by improving the speed and quality of management's financial information; and providing a sounding board to challenge and then shape company strategy.
In his spare time alongside a young family James is an avid sports fan, both playing and watching.
James is a fellow of the Institute of Chartered Accountants (ICAEW).
Craig Wilson
Craig began his accounting career in practice in 2001 and has been assisting SMEs with their compliance duties ever since. He has worked with a variety of businesses from sole traders, charities, and groups of companies, across a wide range of industry sectors.
Craig joined the Multiply team in 2019 to manage the compliance department and has been pivotal in the growth of both the client portfolio and the team itself.
As well as overseeing the compliance offering, Craig is the firm's chief troubleshooter when it comes to queries across many different aspects of accountancy, tax and the inner workings of HMRC and its myriad systems!
In his spare time (heavily limited due to a family including four young children) Craig enjoys films, video games, restaurants and holidays.
Sarah Pincham
Sarah spent the first eleven years of her career at a worldwide foreign exchange company joining part time as a student and leaving as financial controller & operations manager.
After such a varied role learning all aspects of running a business, an opportunity arose to use this experience & start up a small business to supply SIM cards & mobile phone to travellers visiting the UK retailing through airports, seaports & tourist attractions for the next eleven years.
Uncertainty in the telecoms market & over 20 years of distance commuting led Sarah back to Management Accounting & she joined Multiply in 2019 where there were opportunities to expand her financial knowledge & become involved in companies quarterly & year end compliance.
Sarah's interests include Lego, baking, supporting Tottenham Hotspur & a love of spiced rum!
Louise Smith
Louise has three years' bookkeeping experience after a career change following 15 years working in the media and education sector. Joining Multiply in 2020, Louise is a Xero Certified Bookkeeper helping her deal with a multitude of client accounts from all sectors.
Louise enjoys building relationships with clients and prides herself in getting the detail spot on, with a  can-do attitude.
Louise also has a Foundation Diploma in Accounting with AAT Level 2.
In her spare time you will find Louise running around looking after the children, gardening or studying geneology when away in the caravan!
Kate Kennerson
Prior to joining the Multiply team, Kate has had various positions including training with the citizen's advice bureau, working in media, non-profit/charity, blue chip and finally, helping to run her successful, family owned plumbing and heating business. With the skills learned along the way, and a degree in Media, Kate has since found her place in accountancy practice where she feels at home.
Her accountancy career started with bookkeeping but with her thirst for knowledge and inquisitive mindset she set out to work in practice and enrolled to study with ICAEW. Kate is now part way through the ICAEW exams and looks forward to qualifying as a chartered accountant with Multiply.
In her spare time, you will find Kate juggling her children's home education, looking after her Great Danes and cats, studying for exams, finding ways to make vegan cooking lower carb and attempting to get fit.
Paula Jefferies
Paula's career started off working in a general accounts office before joining the Royal Navy.  After leaving the service and moving to Essex, Paula started working in payroll, ultimately managing a large team processing payrolls for a large British based Oil Company.
Having gained experience in another accountancy practice, Paula joined Multiply in 2021 and enjoys providing a personal service for a variety of clients.  Using her knowledge and experience Paula can help small businesses make sure their payrolls are accurate and on time guided by the current HMRC legislation.
Outside of work you will find Paula walking, cycling and socialising with close friends & family.
Candace Mortimer
Practice Administrator & EA
Candace has had a varied career as an Executive Assistant working with Accountants, Scientists, Interior Designers and NHS Executives.
Having over 20 years' experience in a variety of sectors, Candace enjoys bringing her wealth of organisational skills to play in order to assist the team to work productively.  She has benefitted from Lean 6 Sigma training and is an accredited Microsoft Office specialist.
In her spare time, Candace has recently completed a course to teach English as a foreign language, she also loves to find new ways to express her creativity, such as painting, making jewellery, or photography
Multiply have transformed our business.
The processes they have introduced have streamlined our finance department and the guidance they have given us has reshaped us for the better.
MJ JACKSON
FOUNDER, CONDUCTOR